NOTE: Some of the links contained in this section are affiliate links. This means that I may earn a small commission (at no additional cost to you) if you choose to purchase a given item. I have first-hand experience with ALL products and services listed here and would not recommend them if I didn't truly believe that they would help you reach your goals. Please contact me if you have any questions regarding affiliate relationships or any of the resources below. ~Erich
"Often when people feel stuck, they try to change something about themselves. Authors Ritchey and Axelrod suggest that instead they should learn to see situations in new ways and create new options for relating to others. That process begins with DiSC, an assessment tool that reveals one's style of interaction. DiSC is an acronym for the four styles — Dominance (direct and decisive), Influence (optimistic and outgoing), Supportive (sympathetic and cooperative), and Conscientious (concerned and correct). This book teaches readers how to recognize their style and its implications, how to read the styles of others, and how to choose the most effective style (or combination of styles) for any situation." —Amazon.com
"Successful managers work like coaches, assessing each person's strengths and weaknesses and developing the best strategy to get the job done. The 4-Dimensional Manager shows how managers can become more effective by using the DiSC system. "DiSC" stands for four communication styles: Dominance (direct and decisive); Influence (optimistic and outgoing); Supportive (sympathetic and cooperative); and Conscientious (concerned and correct). In the book's first part, readers assess their own style, the style of the people they manage, and the style of their organization. The second part shows how to choose the most effective style (or combination of styles) for any situation, focusing on seven key areas: delegating, decision making, problem solving, motivating, complimenting, giving constructive feedback, and developing skills." —Amazon.com
"To be an effective leader you need to know your strengths—but that's only part of the story. You also need a broad perspective on all the behaviors needed to be an effective leader. This book provides both.
Using the third-generation DiSC® online personality assessment—one of the most scientifically validated tools available—The 8 Dimensions of Leadership helps you identify your primary leadership dimension. Whether you are a Pioneering, Energizing, Affirming, Inclusive, Humble, Deliberate, Resolute, or Commanding leader, the authors help you understand the psychological drivers, motivations, and 'blind spots' characteristic of your style." —Amazon.com
"The culmination of six years of research and development, The Work of Leaders presents a simple structure that neatly captures the complexity of contemporary leadership. The goal of this book is to make this wealth of leadership insight accessible to anyone who wants better results as a leader." —Amazon.com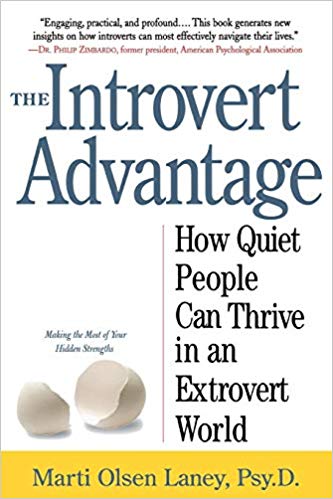 "At least one out of four people prefers to avoid the limelight, tends to listen more than they speak, feels alone in large groups, and requires lots of private time to restore their energy. They're introverts, and here is the book to help them boost their confidence while learning strategies for successfully living in an extrovert world. […] The Introvert Advantage dispels introverts' belief that something is wrong with them and instead helps them recognize their inner strengths-their analytical skills, ability to think outside the box, and strong powers of concentration." —Amazon.com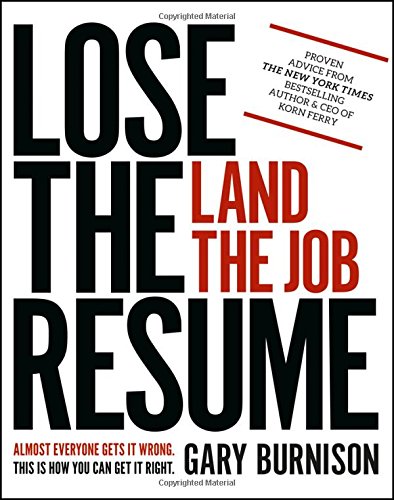 "Gone are the days of polishing up your resume and sending it out at random. At every level today, you need to "lose the resume" in order to land the right job. In other words, you have to learn to tell a story about yourself that speaks to your competencies, purpose, passion, and values. Lose the Resume, Land the Job shares the new rules of engagement: How you must think, act, and present yourself so you can win." —Amazon.com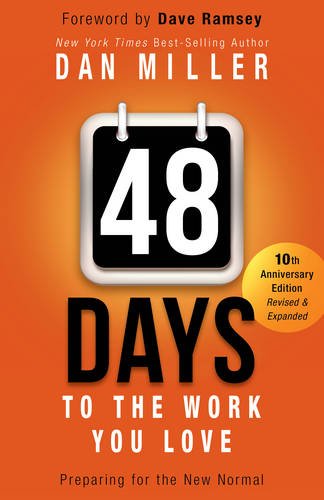 "As a leading vocational thinker, New York Times best-selling author Dan Miller helps people better understand and organize their God-given skills, personality traits, values, dreams, and passions. Packed with modern insight and timeless wisdom, the revised edition of Miller's 48-Days to the Work You Love includes Your 48 Days Schedule and smart ideas for thriving in today's changing workforce, as well as fresh tips on career search and resume tools, interview skills, negotiating salaries, and more." —Amazon.com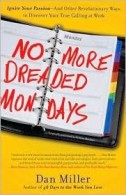 "Whether you are launching a new career or business, want to renew your passion and creativity at your current job, or are a manager desperate to better motivate and inspire your employees, No More Dreaded Mondays is the answer to escaping workplace misery and finding true joy in meaningful, fulfilling work–even on Monday mornings." —Amazon.com
"Jon Acuff used to be a Serial Quitter. He had eight jobs in eight years, constantly hoping the next one will be different. From writing advertising for The Home Depot, to branding for companies like Bose and Staples, he's no stranger to the cubicle. This book is the result of that 12-year adventure in closing the gap between a day job and a dream job." —Amazon.com
"Psychiatrist Viktor Frankl's memoir has riveted generations of readers with its descriptions of life in Nazi death camps and its lessons for spiritual survival. Between 1942 and 1945 Frankl labored in four different camps, including Auschwitz, while his parents, brother, and pregnant wife perished. Based on his own experience and the experiences of those he treated in his practice, Frankl argues that we cannot avoid suffering but we can choose how to cope with it, find meaning in it, and move forward with renewed purpose." —Amazon.com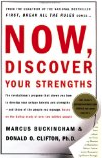 "Unfortunately, most of us have little sense of our talents and strengths, much less the ability to build our lives around them. Instead, guided by our parents, by our teachers, by our managers, and by psychology's fascination with pathology, we become experts in our weaknesses and spend our lives trying to repair these flaws, while our strengths lie dormant and neglected. With accessible and profound insights on how to turn talents into strengths, and with the immediate on-line feedback of StrengthsFinder at its core, Now, Discover Your Strengths is one of the most groundbreaking and useful business books ever written." —Amazon.com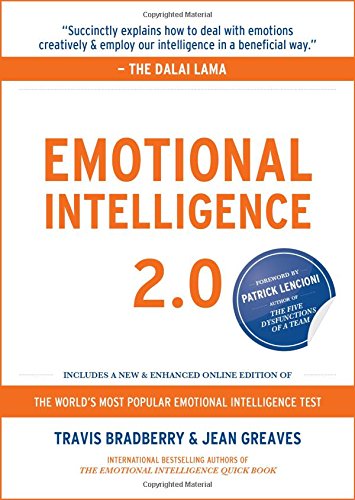 "In today's fast-paced world of competitive workplaces and turbulent economic conditions, each of us is searching for effective tools that can help us to manage, adapt, and strike out ahead of the pack. By now, emotional intelligence (EQ) needs little introduction—it's no secret that EQ is critical to your success. But knowing what EQ is and knowing how to use it to improve your life are two very different things. Emotional Intelligence 2.0 delivers a step-by-step program for increasing your EQ via four, core EQ skills that enable you to achieve your fullest potential." —Amazon.com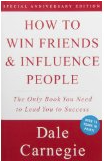 "For more than sixty years the rock-solid, time-tested advice in this book has carried thousands of now famous people up the ladder of success in their business and personal lives. Now this previously revised and updated bestseller is available in trade paperback for the first time to help you achieve your maximum potential throughout the next century!" —Amazon.com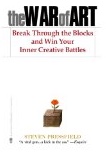 "A succinct, engaging, and practical guide for succeeding in any creative sphere, The War of Art is nothing less than Sun-Tzu for the soul. What keeps so many of us from doing what we long to do? Why is there a naysayer within? How can we avoid the roadblocks of any creative endeavor—be it starting up a dream business venture, writing a novel, or painting a masterpiece? Bestselling novelist Steven Pressfield identifies the enemy that every one of us must face, outlines a battle plan to conquer this internal foe, then pinpoints just how to achieve the greatest success. The War of Art emphasizes the resolve needed to recognize and overcome the obstacles of ambition and then effectively shows how to reach the highest level of creative discipline. Think of it as tough love . . . for yourself. Whether an artist, writer or business person, this simple, personal, and no-nonsense book will inspire you to seize the potential of your life." —Amazon.com
Dan Miller, life coach and author of the widely acclaimed 48 Days To The Work You Love and No More Mondays, examines the changing work models and outlines a plan for integrating your dreams and your passions into your daily activities at 48days.com. If you've ever buried your dreams in an attempt to be "practical" or "realistic," the products at 48days.com will show you how embracing those very dreams is the most practical way to enjoy life and achieve the success you're looking for.
Bluehost
 (the web host of harmonyinsights.com) was founded in 2003 with one goal: to make a better hosting company. Visit them for all of your web hosting needs, including low monthly hosting fees. The
Career Transitions Center of Chicago's (CTC)
mission is to provide professional, emotional and spiritual support to those seeking a job, looking for meaningful work, and to enhance the employability of incumbent workers. CTC is a volunteer-driven, non-profit organization providing professional assistance to individuals in career and employment transition.  CTC also provides outplacement and customized training for incumbent workers.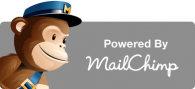 Let MailChimp help you design email newsletters, share them on social networks, integrate with services you already use, and track your results. It's like your own personal publishing platform. 
The Science of Character
 (8 mins) explores the neuroscience and social science that proves that we can shape who we are, and who we want to be in the world.
Join host Dan Miller every week for the 48 Days Online Radio Show. Dan is the nation's leading authority on work, career and business start-up. This show consistently sits in the top 50 under the Business category in iTunes, and is often at #1 under Careers.
Susan Cain hosts Quiet: The Power of Introverts, a ten-part weekly series on parenting and teaching introverted children. Susan dives into why quiet kids are unique and require different parenting and teaching methods from their extroverted peers. Susan and her expert guests discuss how parents and schools can help introverts thrive, how social media allows quiet children to express themselves in ways that were never possible before, the neuroscience of introversion, and much more.
Hosted by Ken Coleman, the EntreLeadership Podcast features lively discussions and tips on leadership and business by some of the top minds in the business.
The Smart Passive Income Podcast, hosted by Pat Flynn, reveals all of his online business and blogging strategies, income sources and killer marketing tips and tricks so you can be ahead of the curve with your online business or blog. Discover how you can create multiple passive income streams that work for you so that you can have the time and freedom to do what you love, whether it's traveling the world, or just living comfortably at home.
Entrepreneur On Fire host John Lee Dumas interviews today's most successful entrepreneurs 7 days a week. EOFire was created for YOU, the entrepreneur, side-preneur, solo-preneur, and small business owner. Each episode details the journey of a successful entrepreneur who shares their worst entrepreneurial moment and lessons learned, an "aha moment" and how they turned that idea into success, and much more.
Beyond The To Do List host Erik Fisher talks with the people behind the productivity to help you choose the right projects, tasks, and goals in work and life. Erik talks with people on all aspects of productivity, including getting the right work done, getting good work done, and the true end goal of productivity: living a meaningful life.
The Accidental Creative podcast shares how to build practical, everyday practices that help you stay prolific, brilliant, and healthy in life and work. Host Todd Henry interviews artists, authors, and business leaders, and offers tips for how to thrive in life and work.
How Did You Get Into That? is the podcast you've been looking for! Host Grant Baldwin interviews people from all walks of life that are doing something interesting to make a living. Whether you're looking for your first career, ready to make a career shift, interested in starting a business, becoming an entrepreneur, or just need an inspirational and motivational kick in the pants, you'll find it here.
Want to do work you love? Happen To Your Career, hosted by Scott Barlow and Mark Sieverkropp, provides the inspiration, tools, and roadmaps to move from where you are to work that maters to you and uniquely fits your strengths and talents. If you "happen to your career," then you can happen to your life!
Converge: The Business of Creativity Podcast, hosted by Dane Sanders, explores the concentric circles of creating great things and finding innovative ways to profit from those creations.
Under the Influence – Selling Yourself: The Art of Personal Branding takes marketing lessons from big brands and applies them… to you. If you have to sell yourself, sell your services, if you want more "likes" and followers, or if you're looking for a job – this episode explores how to manage your social media, how to pick the best profile photo, how to maintain a consistent tone of voice, how to avoid cliches in your resume. It's time to overhaul your personal brand.
November 9, 2020
Janna Macik of the Powering Unique You live stream talks with Erich about how to make professional networking enjoyable and fruitful, including for introverts.
October 30, 2020
Anna Oakes of the Build High Performing Teams podcast interviews Erich on the topic of company culture and engaging talent during part 1 and part 2 of this brief, insightful conversation.
October 21, 2020
Felix Du Sablon of the Humans Over Numbers podcast talks with Erich about the value of the DiSC personality assessment to individuals and teams in a conversation titled "Darth Vader's Personality Type and How to use Personality Theory for Work."
September 17, 2020
In her own Impact Makers podcast, Jennifer McClure shares the recording of when she was a guest on Erich's Lunch Date series in June 2020.
August 26, 2020
Karen Allen interviews Erich on the topics of communication, connection, and culture in a world of remote work during the Forum Forward 2020 conference, hosted by Association Forum.
August 17, 2020
In a collaboration between Workhuman and Harmony Insights, Erich moderates a panel discussion titled Creating Meaningful Connection and Engagement in Today's Work Climate.
August 19, 2020
David "D. Fish" Fisher of Rockstar Consulting features a quote from Erich in his post titled How A Networking Expert And His Friends Have Kept Networking In A Pandemic.
July 29, 2020
Brenda Meller of Meller Marketing interviews Erich in a Social Media P.I.E. conversation titled "Professional Networking For Introverts: Common Misconceptions and Actionable Tips."
May 22, 2020
Enrique Rubio features Erich, Tracie Sponenberg, and Julie Turney in a conversation titled "How To Network (For Introverts!)" as part of the Hacking HR "You Can Do It! Coffee Series."
May 19, 2020
Micole Garatti of socialmicole.com includes Erich once again in The Most Inclusive HR Influencer List, a crowdsourced initiative designed to identify and celebrate HR leaders who make an impact both on and offline.
April 27, 2020
Enrique Rubio features Erich and his session titled Network Like An Introvert: Valuable Tips For All Personality Styles for a Hacking HR virtual workshop series
March 5, 2020
Enrique Rubio of Hacking HR features Erich, Tracie Sponenberg, and Julie Turney in a fireside chat titled "Branding Yourself – How to Put Your Introvert, Extrovert or Ambivert Self Out There."
January 23, 2020
David "D. Fish" Fisher of the Beer, Beats, & Business podcast talks with Erich about networking, introversion, and local beer.
December 12, 2019
Ann Lustig of The HR Fix podcast talks with Erich about mastermind groups and the evolution of the HRHotSeat community.
November 22, 2019
Howard Fox of the #SuccessInSight Podcast talks with Erich about the HRHotSeat inclusive mastermind community.
October 1, 2019
Micole Garatti of socialmicole.com includes Erich in The Most Inclusive HR Influencer List, an evolving roster of ~150 HR leaders who are influencing HR discussion and community both on and offline.
September 18, 2019
Bryce Conlan of the Chief: The Real Truth About Being Boss podcast talks with Erich about how he got started in HR, how he defines leadership, the importance of self-awareness, the imposter syndrome, and volunteerism.
September 9, 2019
Enrique Rubio of Hacking HR invites Erich to participate in a discussion titled "A Sense of Belonging: The Importance of HR Community" to round out a 9-panel, full-day online conference.
August 15, 2019
Jon Thurmond and Wendy Dailey of the HR Social Hour Half Hour Podcast chat with Erich about his HR journey, DiSC, HRHotSeat, and more!
July 30, 2019
Callie Zipple of SHRM's Honest HR podcast invites Erich back for a second conversation about the natural strengths that introverts bring to professional networking.
July 24, 2019
Tom McLaughlin of the Next Level Results blog includes Erich's thoughts on outstanding people plans in a post titled, "Five Main Ingredients to a Successful and Sustainable Hospitality Organization."
July 17, 2019
Jennifer Tardy of the #CareerSuccess podcast discusses introversion and professional networking with Erich. YouTube | Apple Podcasts | Soundcloud | Google Play
June 23, 2019
Allen Smith, J.D. (manager of workplace law content for SHRM), covers Erich's SHRM19 session "Network Like An Introvert: Valuable Tips For All Personality Styles."
April 17, 2019
SHRM posts a blog Q&A by Amanda Brunson, interviewing Erich about his anticipated SHRM19 conference session.
February 14, 2019
Sarah Witcher of the HireEd Podcast talks with Erich about communication, leadership, and much more.
October 29, 2018
Callie Zipple of SHRM's Honest HR podcast discusses effective networking with Erich.
February 13, 2018
VoyageChicago features an interview with Erich as one of their Inspiring Stories.
November 1, 2017
Alan Collins interviews Erich about Masterminds for the "Success in HR" blog.
September 21. 2017
Erich is featured as a September All Star by "edutainment" company improve it!
July 19, 2017
Eric Connor of Restore Recover Counseling interviews Erich on the topics of personality styles, DiSC, and meaningful work/relationships for episode 7 of The Better Living Blueprint Podcast.
June 27, 2017
Cyndi and Brad Winsor interview Erich for episode 10 of the propsHR podcast on the topic of company culture.
February 23, 2017
Liz Yarger from HUB International publishes a LinkedIn Pulse article, sharing her excitement about hosting the Chicago HR Mastermind.
February 20, 2017
Northwestern Business Review publishes an online article, reviewing Erich's February 16th networking workshop at The Garage.
January 16, 2017
Nancy Harris includes Erich among her Restart Consulting: A Dozen Days of Disruption interviews to discuss DiSC, disrupting HR, and more.
November 16, 2016
Gregory Tall talks with Erich during a live webinar (recording linked here) titled "Networking Not Working?: A Conversation About How To Work The Room If You're An Introvert."
August 24, 2016
Daniel Bauer interviews Erich for the Better Leaders Better Schools podcast on the topics of DiSC, meaningful work, coach vs. disciplinarian, why we do what we do, building diversity, and more.
July 28, 2016
Chicago SHRM highlights Erich in its monthly Member Spotlight Q&A.
May 9, 2015
Terrass Misher interviews Erich for the E-MasterCast podcast on the topics of interpersonal communication, meaningful connection, diverse teams, effective selling, and the DiSC model of behavior.
October 28, 2015
Terrass Misher interviews Erich for the New Agent Edge podcast on the topics of interpersonal communication, meaningful connection, diverse teams, effective selling, and the DiSC model of behavior.