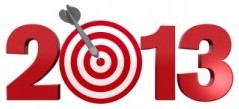 Regardless of your resolution, make it start with you this January.  Want to communicate more effectively, find or create more meaningful work, or forge lasting relationships?  Perhaps you're looking to get in shape, improve your financial stability, or simply establish a position of strength so that you may be of better service to others in the coming year.  It is only first by looking within at our innate behavioral tendencies and environmental preferences that we can begin to chart a course for achievement, and Harmony Insights is passionate about helping you do just that.
For a limited time, complete an online DiSC assessment and receive one-on-one Harmony Insights coaching (a total value of $99.95) for the cost of the assessment alone: just $49.95.  You will receive a 20-page personalized report, providing you with all of the information you need to make progress on your New Year's resolutions.  In addition, a Harmony Insights coach will help you to interpret your results, focus on key elements of your profile, and uncover the strategies for becoming more effective in all that you set out to accomplish.
Maybe you have personal goals in mind.  Perhaps you are curious as to how DiSC can benefit your company or organization.  Contact Harmony Insights today to take advantage of this special offer and commit to higher levels of achievement throughout 2013.  We can't wait to partner with you in your development!